Smithsonian Student Travel  |  Student Journey  |  Ecuador & the Galápagos
Experience Ecuador's impressive diversity this summer, from historic Quito to the stunning Andean páramo and highlands, from the lush Intag cloud forest to the legendary Galápagos Islands. Along with your Smithsonian Student Travel expert and leaders, explore Ecuador's landscapes and cultures, and consider the impacts and benefits of tourism, resource extraction, and conservation efforts on its local communities, ecosystems, and economies. Begin in historic Quito, then travel north to Volcan Imbabura to delve into Ecuador's colonial past while based at a family hacienda. Live in a rural host community as you learn about Kichwa traditions and Andean cosmovision, and lend a hand in clean water initiatives. Then, spend two days in the lush cloud forest of the Intag Valley, work with a women's artisanal cooperative, and study the history of a controversial mining project in the region. Finally, fly to the Galápagos Islands and examine the relationship between conservation and tourism, developing a deeper understanding of the past, present, and future of Ecuadorian lands, ecosystems, wildlife, and cultures.
June 22, 2022–July 6, 2022 (15 days)
July 6, 2022–July 20, 2022 (15 days)
Students completing grades: 8–12
Tuition: $6,790 + airfare
Typical Group: 14–16 + 2 leaders
Ride the teleférico and take in vistas of Quito and the stunning Andes

Engage with Indigenous perspectives on Ecuador's colonial past

Live in a Kichwa community and work on clean water initiatives

Observe sea turtles and Galápagos penguins in their natural habitat
This itinerary represents our best projection of the group's schedule. However, we may implement changes designed to improve the quality of the program.
Departure • Travel Day • Meet your student travel group and one of your trip leaders in Miami, Florida, and fly together to Quito, Ecuador.  
Quito • 2 days • Settle into our comfortable residence in Quito's historic center, and get to know your leaders and fellow students. Alongside your Smithsonian Student Travel Expert, pay a visit to the Museo de la Ciudad to get an introduction to Quito's ancient societies and its relationship with colonial Spain, then ride the teleférico up the Pichincha volcano. Participate in an in-depth program orientation to prepare for your journey.
Ibarra • 1 day • Travel north to the outskirts of Ibarra and stay at a colonial-era hacienda nestled in the highlands. Sample traditional Andean meals, hike to a vista of Volcan Imbabura, and chat by the fire with your host, whose family has owned the hacienda for generations. Hike up the road to an Indigenous community and learn about Andean cosmovision and medicinal plants during a visit with a local shaman. Head to the bustling open-air Otavalo market, and stargaze from the hacienda's grounds at night.
Host Village • 3 days • Travel by bus to a small host village in the foothills of Volcan Cotacachi. Volunteer with community members in a traditional Kichwa community and complete a series of projects focused on water conservation and cultural preservation. In the afternoons, harvest crops, play soccer with Ecuadorian friends, practice your Spanish, and hike through the surrounding hills. Interview local people involved in community organizing and Indigenous rights activism. Visit the Laguna de Cuicocha, a crater lake with spiritual significance to the Kichwa people.  
Cloud Forest • 2 days • Traverse the Andes and descend into the verdant cloud forest of the Intag Valley. Join a workshop with a women-led artisan collective of weavers, hike to nearby waterfalls, and visit a coffee farm to learn about coffee production from bean to cup. Meet with the leaders of a nearby NGO working to protect the biodiversity of the region and learn about the complicated history of controversial mining projects. Swim in geothermal hot springs, and tell stories by a rushing river that cuts through the valley.
Quito • 1 day • Return to Quito for one night before a morning flight to the Galápagos Islands.
Santa Cruz, Galápagos Islands • 1 day • Fly from Quito to Baltra Island, then board a boat to travel to Santa Cruz island. Head to the Charles Darwin Research Station to learn about scientists' work in protecting the islands' iconic giant tortoises and their efforts in reintroducing them to the wild. Meet Diego, a 100-year-old tortoise who has helped repopulate his entire species. Hike in the highlands, then check out cavernous lava tubes. Surround yourself with marine iguanas on Tortuga Bay's stunning white sand beach.
San Cristóbal, Galápagos Islands • 3 days • Set out by boat for San Cristóbal island. Get an introduction to the islands' biology, geology, and human history at the Interpretation Center, then enjoy a downhill bicycle ride from the highlands to the coast. Snorkel at Leon Dormido, or Kicker Rock, the remnant of an underwater volcano, and observe the multitudes of tropical fish, manta rays, sea turtles, and Galápagos sharks beneath the surface.
Quito • 1 day • Fly with your group from the Galápagos to Quito, and prepare to travel home. 
Return • Travel Day • Fly from Quito to Miami with your group and a leader, then continue on to your final destination. 
Smithsonian Student Travel Expert
The expert highlighted below will join the group for a portion of the itinerary to add their expertise and insight to the program theme.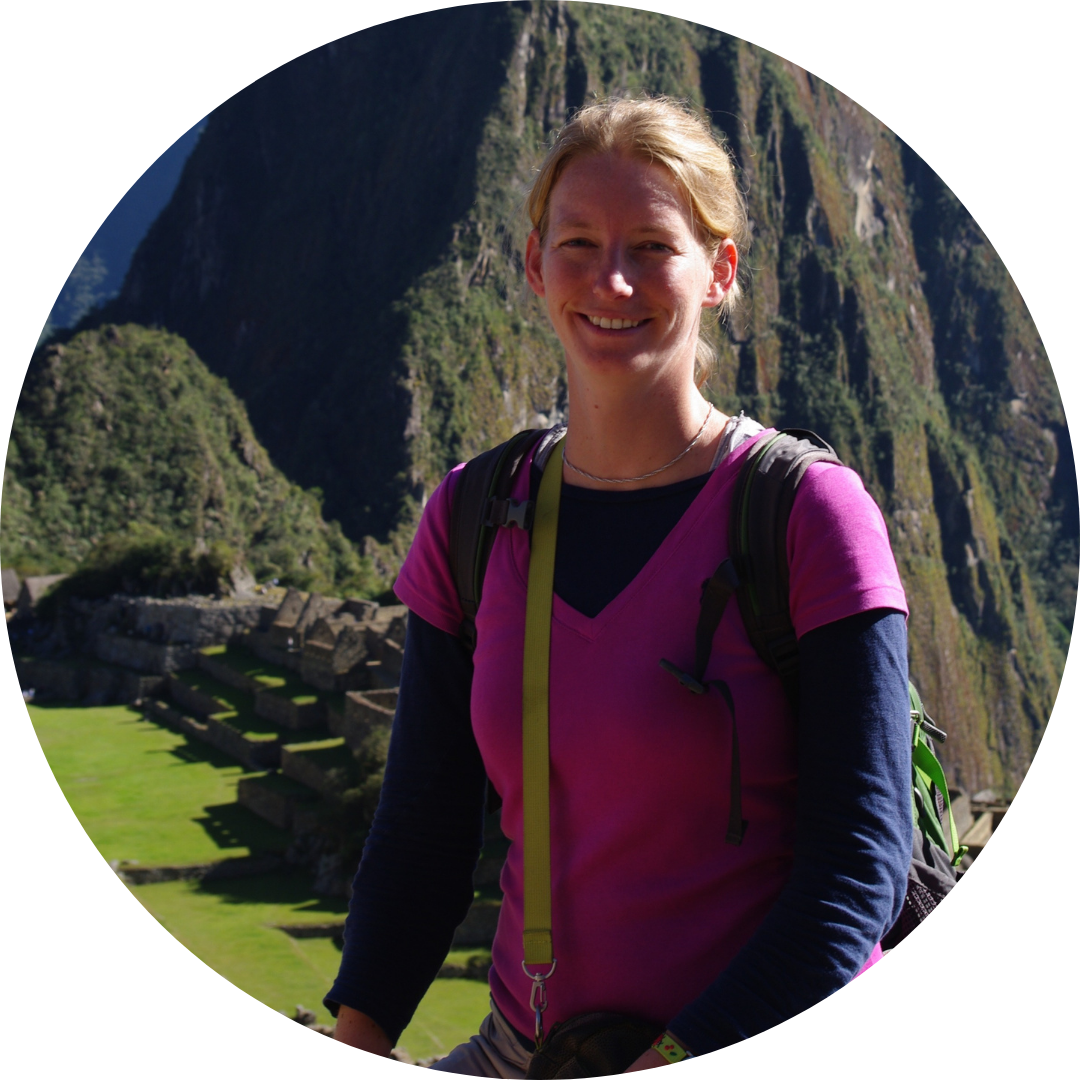 Sarah Baitzel, Archaeologist
Sarah Baitzel is an archaeologist investigating the ritual and social lives of prehispanic Andean peoples. She received her PhD in 2016 from the University of California San Diego and currently holds a position in the Department of Anthropology at Washington University in St. Louis. Her research and teaching encompass anthropological archaeology, the archaeology of death and bioarchaeology, complex societies, and Andean South America. Sarah currently directs two research projects that involve the study of pastoralists (llama/alpaca herders) on the hyper-arid coast of southern Peru (Tacna) and near the high-altitude lakes of Cusco – two starkly different environments that require distinct cultural adaptations. Sarah has published numerous articles in scientific journals throughout the Americas, with a particular focus on Andean textiles, burial rituals, and childhood and social life. Her research has been funded by the National Science Foundation, Fulbright-Hays and the Dumbarton Oaks Research Library, among others.
Sarah will be joining both departures of our Student Journey in Ecuador and the Galápagos.
Physical Activity • This is an active summer travel program. You can expect to swim, kayak, bike, snorkel, and hike. You do not need to be at peak fitness to participate, but it is important that you have a desire to be physically active, and that you are excited about trying all activities.
Altitude • This program visits high altitude. We spend several nights in Quito, which is at an elevation of 9,350 feet above sea level.
Accommodations • During most of the program, we stay in ecolodges and family-run inns where students sleep in beds, have hot showers, and share a room with other students in the group. During the host village stay, the group lives in a rustic community building, or albergue—we have simple beds and bathrooms, running water, flushing toilets, and a shower.  Leaders reside together with the students throughout the program.
Climate • July temperatures in Ecuador are moderate, reaching 60–70°F when the sun is out, and cooling off substantially at night. Although the Galápagos Islands are located on the Equator, the cool Humboldt Current makes the ocean water quite chilly year round.
Meals • We begin each day with breakfast at our residence, and enjoy lunches and dinners at small, local restaurants and cafes, and we occasionally hit the markets to shop for a picnic lunch. In the host village, we eat delicious home-cooked meals prepared by local cooks.
Cuisine • Ecuador is known for its variety of exotic fruits and fresh juices, an abundance of potato varieties and other root vegetables, delicious seafood, and flavorful soups. Seafood is a popular staple on the Galápagos Islands.
Language • Spanish is Ecuador's official tongue and is widely spoken, but ten indigenous languages are also spoken throughout the country. Kichwa is the first language of the highland Indians, including most residents of our host villages.
Sign up for two programs & save $500!
$300 tuition discount + no application fee