Smithsonian Student Travel  |  Student Journey  |  Hawai'i
Embark on a journey to the most remote island chain in the world. On the Big Island of Hawai'i, immerse yourself in local history, culture, and the environment. Meet with Native Hawaiians and hear their stories of growing up on the island, learn words and phrases in the Hawaiian language, practice traditional chants, and take a hula lesson alongside school children. Peer over the edge of the Kilauea caldera, the most active and most researched volcano in the world. Interview park rangers to better understand the challenges the islands face due to development and climate change, and participate in conservation-focused projects to lend a hand in addressing these challenges. Gaze at the stars with astronomers and learn how ancient seafarers were able to navigate from Polynesia to Hawai'i across thousands of miles of open ocean without modern technology.
July 5, 2022–July 18, 2022 (14 days)
July 9, 2022–July 22, 2022 (14 days)
Students completing grades: 8–12
Tuition: $6,390 + airfare
Typical Group: 14–16 + 2 leaders
Participate in conservation-focused service work alongside local educators

Snorkel with vibrant reef fish and learn about conservation efforts

Climb Mauna Kea for gorgeous views of the night sky

Visit Native Hawaiian historical sites to understand their significance
This itinerary represents our best projection of the group's schedule. However, we may implement changes designed to improve the quality of the program.
Departure • Travel Day • Meet your student travel group and one of your trip leaders in Los Angeles and fly together to Kona, Hawai'i. 
Kona • 3 days •  Settle into your accommodations on the gorgeous leeward coast of the Big Island of Hawai'i. After a group orientation, get to know your fellow travelers as you explore the lava fields and beaches of this dramatic coastline. Meet with organizations focused on sustainable aquaculture practices and experience firsthand how seahorse, abalone, and octopus farming are influencing research and green biotechnologies to take pressure off natural ocean resources. "Talk story" with Native Hawaiian educators and learn how ancient peoples holistically managed farming and fishing practices to sustain large populations. Practice traditional chants and learn from elders dedicated to keeping the Hawaiian language alive. Gain a deeper understanding of the original Polynesian settlers and how life on the island changed after the arrival of the western world. Ascend the slopes of Hualalai volcano, where world-famous Kona coffee is cultivated in the acidic lava rock, and participate in the cultivation of the beans. 
Waimea • 4 days • From the coast, travel inland to the ranching town of Waimea where your Smithsonian Student Travel Expert will join the group. Once surrounded by hardwood forest, the trees were cut for shipment abroad and replaced with longhorn cattle, a gift to King Kamehameha. Visit the nearly 200-year-old Parker Ranch, discuss the history and tradition of the Hawaiian cowboy, known as paniolo, and see how the cattle industry on the island is remaining relevant in the 21st century. Then, spend time working with conservationists and educators at Ulu Mau Puanui. Get your hands dirty working on agriculture projects on their land, managed the same way they were thousands of years ago. Discuss with local contacts how these farming practices might be applied in communities back home. 
Hamakua Coast • 3 days • Cross to the lush, tropical rainforest side of the windward coast. Hike into picturesque Waipi'o Valley, the one-time home to Hawaiian royalty. Explore hidden waterfalls, secret hikes, and remote villages. Stay at a sustainable eco-hotel overlooking the Pacific Ocean and discuss the future of sustainable living with the owner. Travel up Mauna Kea, the largest mountain in the world from sea-floor to summit. Gaze at millions of stars from 9,000 feet and learn how seafaring Polynesians crossed thousands of miles of open ocean using only the stars and currents to navigate. Meet with researchers and astronomers associated with the observatories at the summit. Discuss the importance of science, technology, and deep space exploration and how this relates to the controversial development of important Native Hawaiian lands.
Hawai'i Volcanoes National Park • 3 days • Finish the trip near the most studied caldera in the world, Kilauea. Peer into the crater to see steam rising from the lava below. Hike alongside park rangers and naturalists to help remove invasive plants from the delicate ecosystem. Descend into lava tubes and explore the area where new land is being formed as lava hits the ocean. Have final group discussions about the importance of keeping Native Hawaiian culture alive and how to preserve natural spaces in the face of globalization, tourism, and development. Brainstorm ways to enact solutions to your own communities back home. 
Return • Travel Day • Fly from Kona, Hawai'i, to Los Angeles with your group and a trip leader, then continue on to your final destination.
Smithsonian Student Travel Expert
The expert highlighted below will join the group for a portion of the itinerary to add their expertise and insight to the program theme.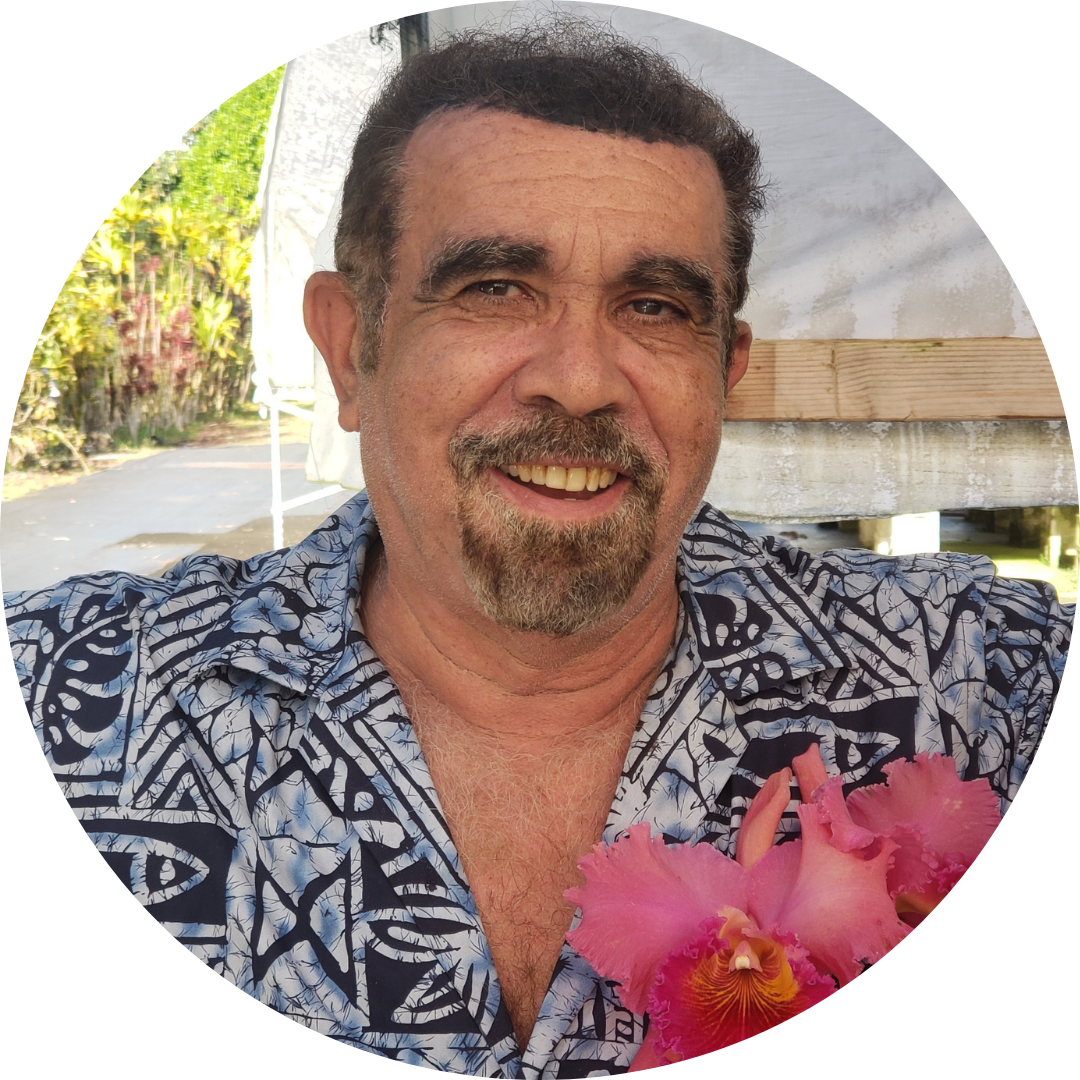 Thomas Mirenda, Horticulturalist
Originally trained as a marine biologist, Tom Mirenda moved to Hawai'i in his early 20s to work on the trophic relationships within coral reefs in the Northwest Hawaiian Islands. While there, he realized he was better suited to horticultural pursuits and took positions at New York Botanical Garden, Brooklyn Botanical Garden, and Long Island's Greentree Estate, where he cared for a world-class orchid collection. Eventually Tom accepted the Orchid Collection Specialist Position at the Smithsonian Institution in Washington, D.C., where he cultivated and curated the orchid collection for 17 years. The Smithsonian collection was used to create massive educational exhibits enjoyed by millions of visitors each year. Recently, Tom co-authored The Book of Orchids, and has traveled around the world establishing the Orchid Garden Conservation Network, an international conservation group working to preserve native plants for future generations in the face of climate change. Tom looks forward to sharing his love of plants and nature with Smithsonian Student Travel groups.
Physical Activity
• This is a physically active summer travel program. You can expect to go on hikes and engage in moderately strenuous activities. You do not need to be at peak fitness to participate, but it is important that you have a desire to be physically active, and that you are excited about trying all activities. 
Accommodations • The group stays in comfortable dormitory-style accommodations as well as small, locally run hotels and hostels. 
Climate • Summer temperatures can be very warm, with daytime highs in the 80s and 90s °F on the coast and slightly cooler at higher elevations. 
Meals • We begin each day with breakfast at our residence or at cafes in town, and enjoy lunches and dinners at small, local restaurants and cafes, or picnic-style.
Sign up for two programs & save $500!
$300 tuition discount + no application fee