We're happy to share this highlight from our summer 2023 Greece & Italy program.
---
Hello friends and family!
On Tuesday, we woke up early on a sunny day, and although still affected by the jet-lug, we were filled with anticipation and excitement. While taking our breakfast, our knowledgeable guide Eirini (meaning peace in Greek) arrived, having prepared an incredible day in the city for us. We put on our hats and sunscreen, and were ready to begin our fabulous day, starting to learn about the Greek Classical Ages!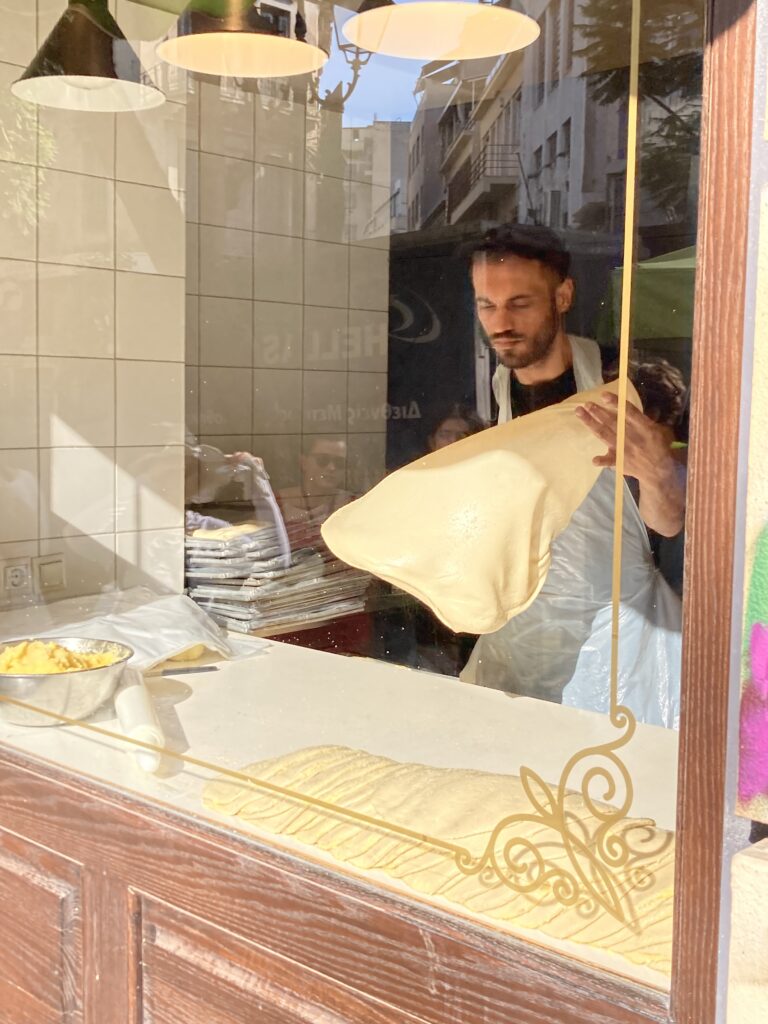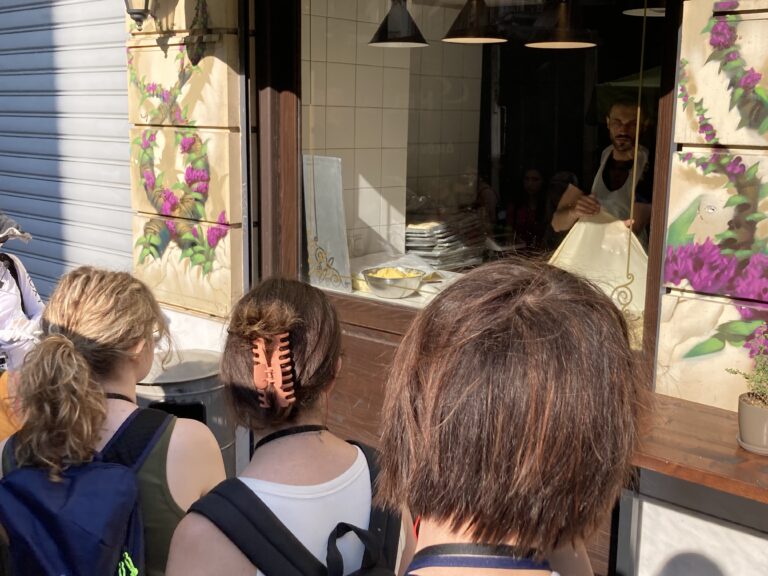 As we stepped out into the bustling city of Athens, our guide led us through its vibrant streets, sharing fascinating insights, captivating stories, and interesting current cultural spots along the way. The city buzzed with life as we made our way towards the iconic Acropolis.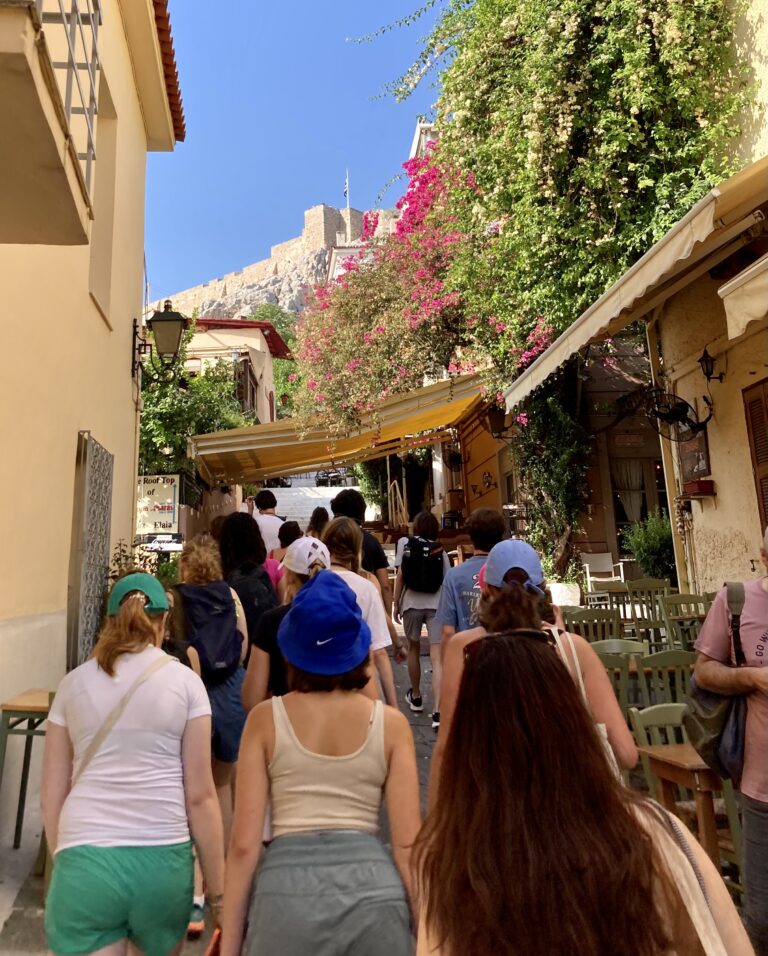 Almost all the city-states in Greece had an Acropolis (ακρος-πολις= city on the top) but this one is unique — the Acropolis of Athens. In the center of the city, on the top of a rocky outcropping, we found ourselves looking at the Parthenon! A huge marble temple built to honor the Goddess Athena, overlooking the city and the Aegean sea. The symbol of the wealth and power of the Athenians, of the birth of Democracy, and an extraordinary example of architectural achievement.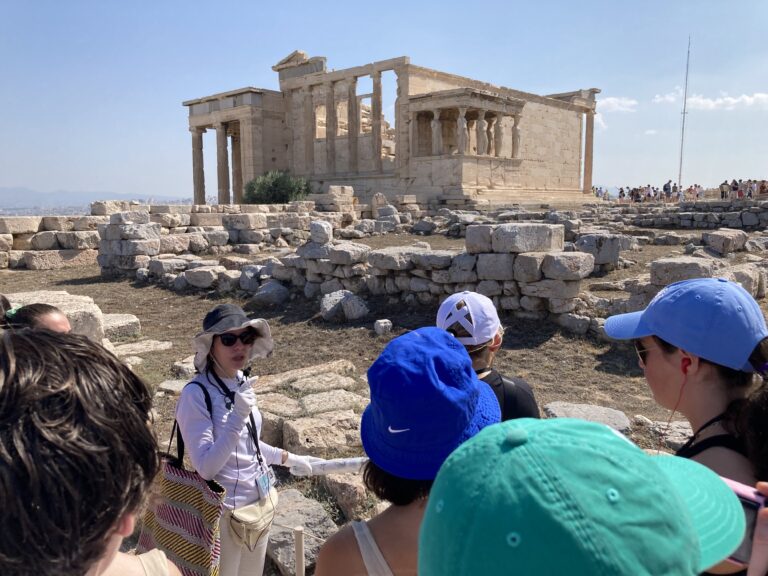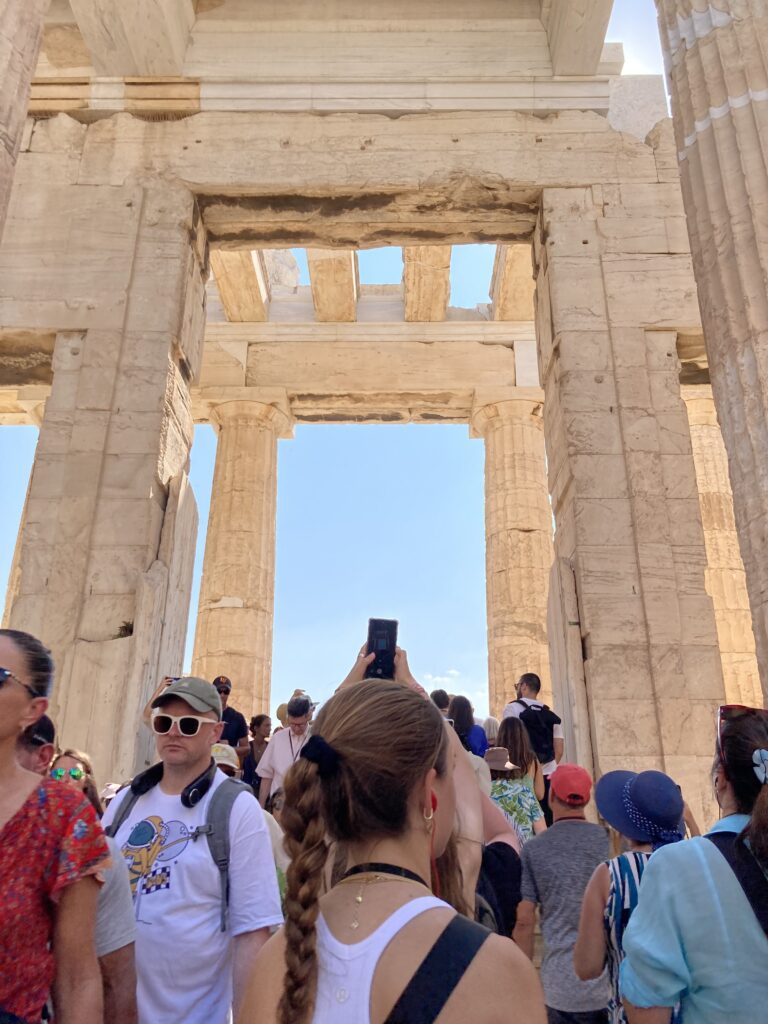 Soon we found ourselves gradually reaching the top and the ceremonial gateway (Propylaia) to the Acropolis of Athens. Our guide navigated us through the ancient ruins, unveiling the rich history of the Parthenon and the exquisite architecture of the Erechtheion. We were transported back in time, marveling at all of these timeless treasures. We gazed upon the Herodes Atticus theater and the theater of Dionysus, imagining the vibrant performances that once unfolded within their grand walls.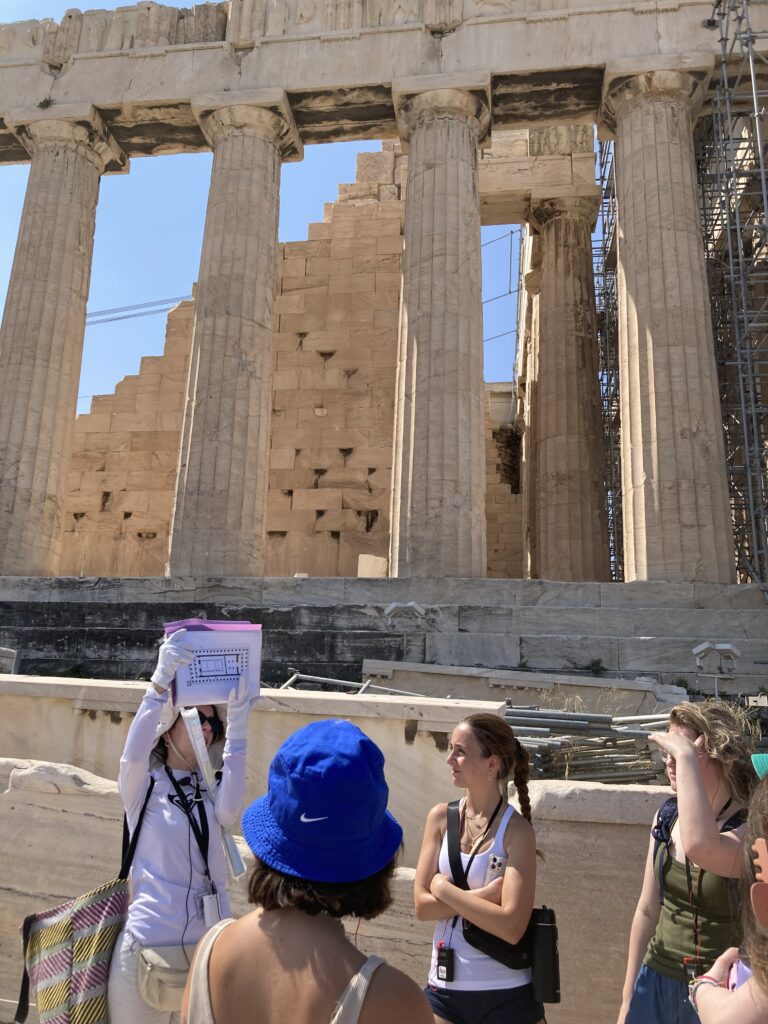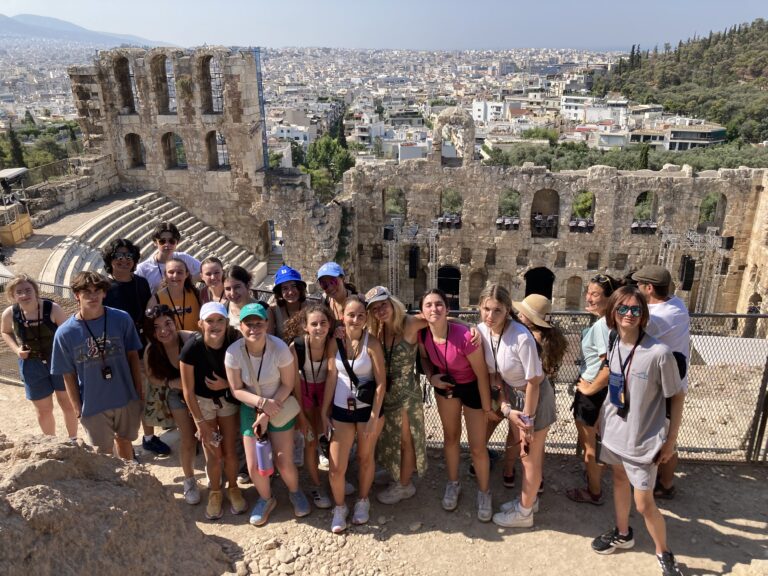 No visit to the Acropolis would be complete without immersing ourselves in the wonders of the new Acropolis Museum. The museum provided us with a deeper understanding of the significance and meaning behind the relics we had just witnessed.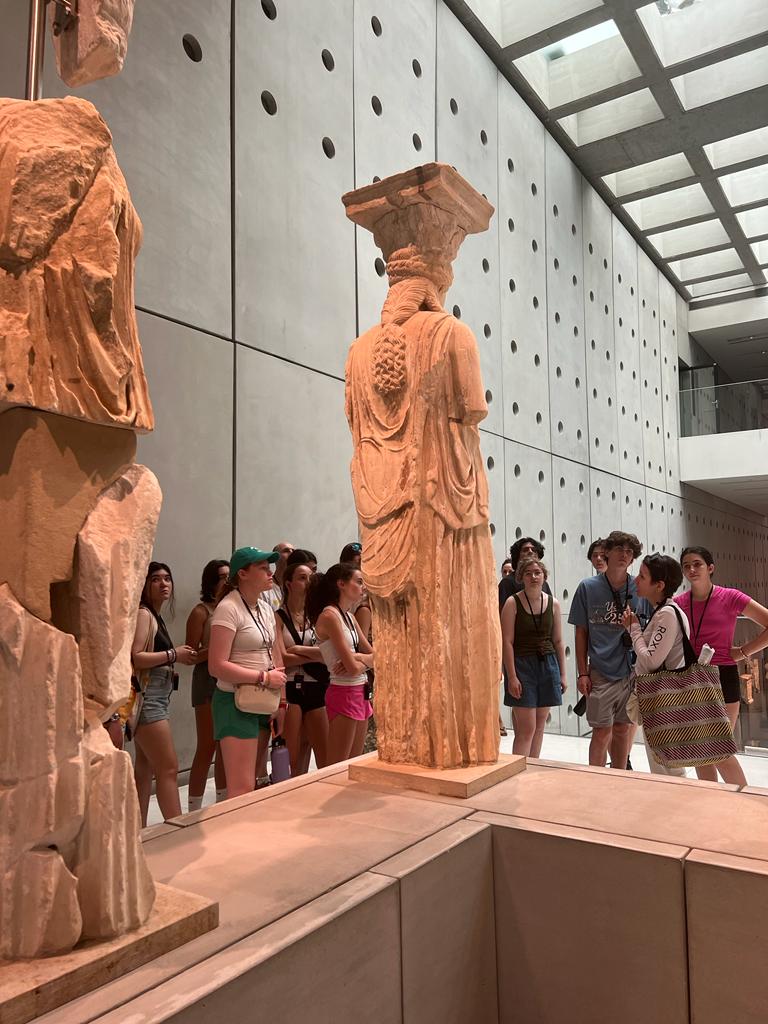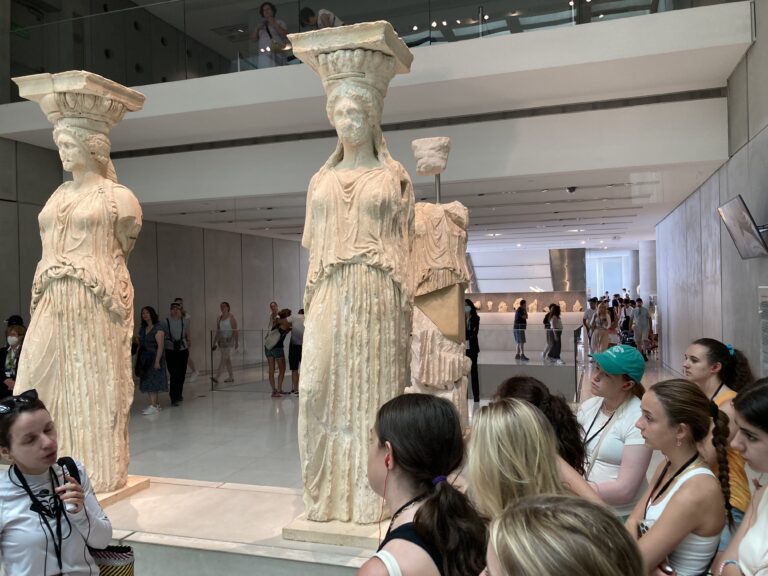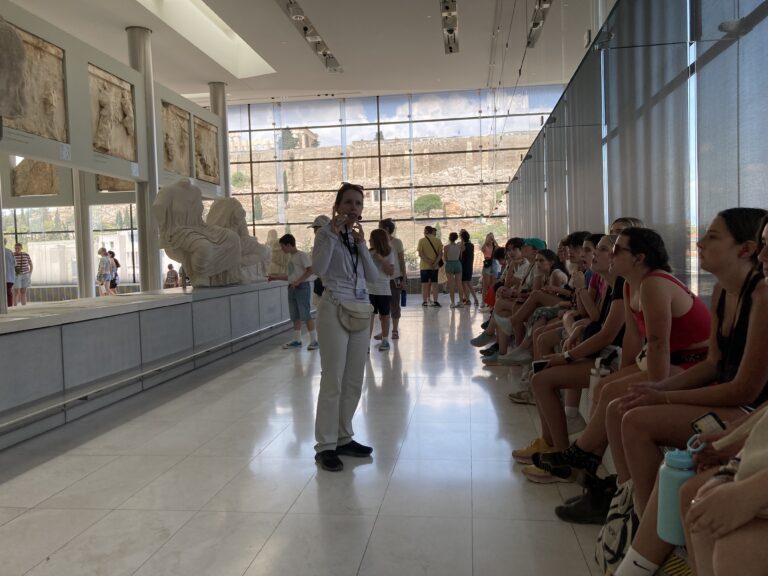 After a fulfilling day of exploration and knowledge, our appetite led us to the picturesque neighborhood of Plaka, where we sat down to enjoy a delicious, lunch accompanied by live music!
The weather was very warm, as the Mediterranean sun was reflected on the marbles — however we are so grateful to have the opportunity to visit the monuments of the Classical Greek Ages. Monuments dedicated to the divine, to the Atheneans themselves, and by extension, in the modern era; to everyone; to the human spirit!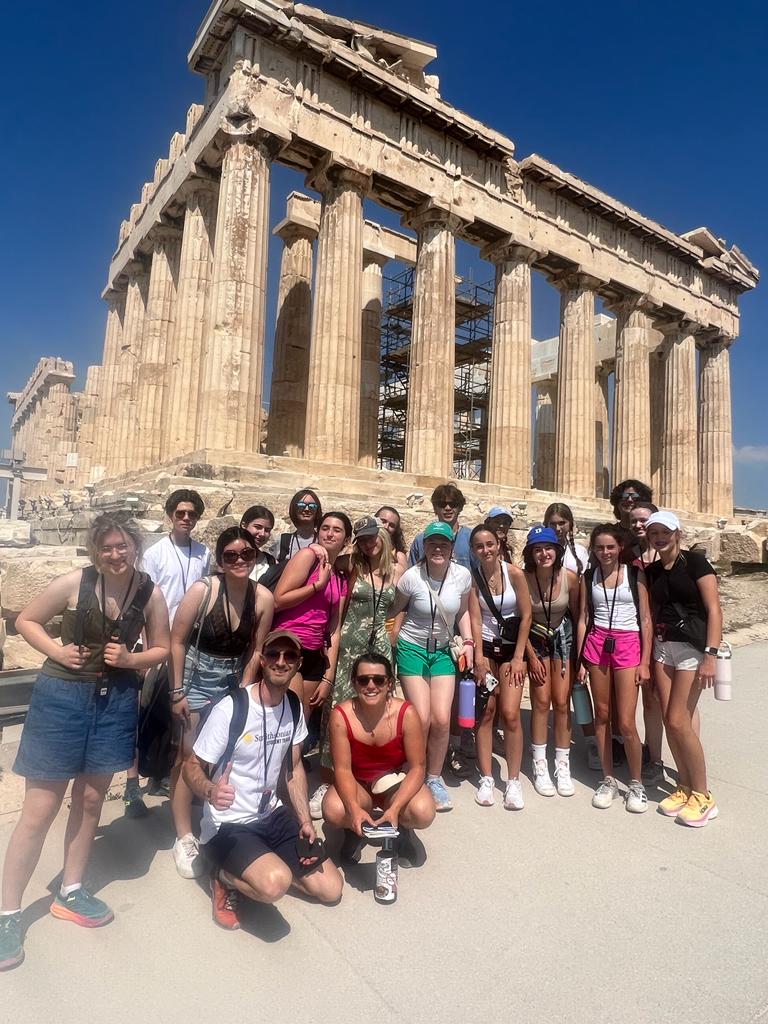 What a glorious beginning to our program!
More to come soon.
– Vassilis & Nina