Smithsonian Student Travel  |  Student Journey  |  Italy
Dive into the rich history, culture, and cuisine of Italy on this high school summer program. Travel from sun-drenched seaside villages and tranquil farms to bustling cities and experience the commingling of the ancient and the modern in four famed locations—Salerno, Rome, Siena, and Florence. Explore the dramatic landscapes of the Amalfi Coast and enjoy the regional variations in cuisine. Muse on the beauty of Italian art and architecture and gain an in-depth understanding of Italy's role in the ancient and Renaissance worlds. Shadow farmers and chefs and discover the deep ties Italians have to their recipes. Experience firsthand how Italian life has held onto ancient and medieval traditions, and discuss Italy's place in addressing 21st-century issues.
June 20, 2021–July 4, 2021 (15 days)
July 4, 2021–July 18, 2021 (15 days)
Students completing grades: 8–12
Tuition: $6,890 + airfare
Typical Group: 20–25 students + 3 leaders
Swim in the turquoise Tyrrhenian Sea off the Island of Capri

Harvest fresh fruit and create your own gelato flavors

Make traditional fresh pasta at a Tuscan organic farm

Discover a favorite artist at the renowned Uffizi Gallery
This itinerary represents our best projection of the group's schedule. However, we may implement changes designed to improve the quality of the program.
Departure • Travel Day • Meet your student travel group and one of your trip leaders in New York, and fly together to Naples. 
Salerno & the Amalfi Coast • 4 days • Settle into our coastal base in Salerno for an orientation to our immersive, active adventure, and get to know your fellow student travelers and group leaders. Explore this stunning region's fascinating past and dynamic present with activities designed to develop new perspectives on the past, present, and future. Travel by hydrofoil to Capri, Amalfi, and other small towns along the Sorrentine peninsula, whose inhabitants have been a part of human history since the Neolithic period. Interview local fishermen, learn about their connection to the sea, and discover your favorite risotto alla pescatora, a Salerno specialty. Trace the region's culture through the Greek and Roman empires, and deepen your understanding of our common past. 
Rome • 4 days • Next, travel north to Rome, where the ancient world coexists with Italy's vibrant present. Come face-to-face with Imperial Rome in the ruins of the Forum and the Colosseum, and learn about the city's very different place within Medieval Europe. Discuss Italy's role in Europe's current migration crisis with local experts, and interview contemporary Romans about their lives in this fascinating city. Meet chefs at local trattorias and learn how to make Rome's famous cacio e pepe. Spend evenings at an outdoor concert, practice your Italian at produce markets, and picnic along the river with locals and other world travelers. 
Siena • 2 days • Travel by private bus to the hilltop city of Siena, in the heart of Tuscany. Explore the small streets of its Medieval city center, and learn about the annual palio horse race, which celebrates the different wards within the city. Study the Renaissance frescoes within its 12th-century cathedral, and discuss the importance of Duccio's masterpieces at the Museo dell'Opera. In the evenings, attend a performance at the Siena Jazz school, sample local specialties like ricciarelli almond cookies, and meet local restaurateurs active in the slow food movement. 
Florence • 4 days • Cap off your adventure in Florence, the birthplace of the Renaissance and capital of the Tuscany region. From our 13th-century villa perched just above the city, immerse yourself in masterpieces at the Uffizi Gallery and the Accademia, home to Michelangelo's David. Climb to the top of the Duomo and meet leather artisans on the Ponte Vecchio. Meet young Florentine street artists and interview them about modern creativity in the shadow of the city's history. Travel by train to a nearby organic farm to learn about traditional methods, and create your own gelato flavors with freshly harvested fruit. Try your hand at pasta-making at a cooking school, and meet with a family that has been producing the region's olive oil for generations. Present your final projects in front of your group, and celebrate the completion of your adventures with a traditional meal at a local restaurant.
Return • Travel Day • Fly from Florence to New York with your group and a trip leader, then continue on to your final destination. 
The local expert(s) highlighted below are examples of professionals that will join the group at various points throughout the itinerary to add their expertise and insight to the program theme.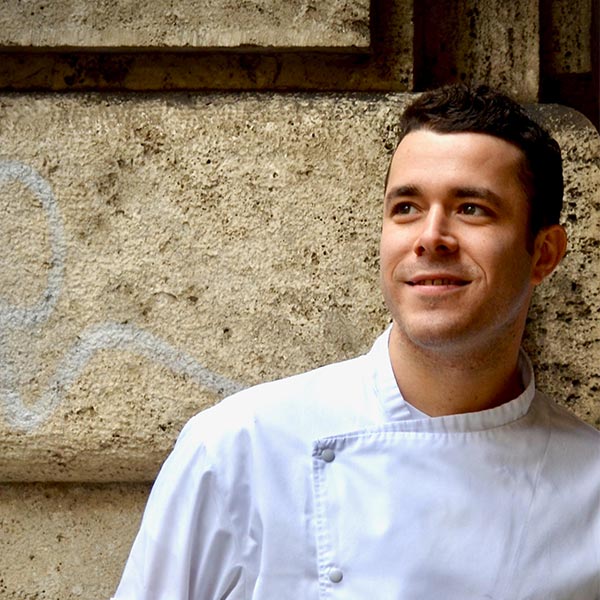 Born in Fiesole, Florence, Michele has worked as a chef all over the world. Once finished with school, he moved to London to embark on his professional career. After working at Pied a Terre, an historic and award-winning eatery in London, he moved to Thailand to work at the Michelin Star rated restaurant, Bo.lan. With his new Asian cooking techniques perfected, Michele returned to Italy for positions at restaurants in Florence and the island of Sicily. In 2019 he returned to Florence to open his pasta making workshop thanks to the inspiration from his grandma, who shared her knowledge and passion of fresh pasta making with him from a young age.  Michele loves his work because it gives him the opportunity to meet with people from all over the world and share part of his culture with them. He is excited to meet with our students this summer to share stories of his past and impart knowledge about Italy's rich culinary history and traditions.
Physical Activity • This is a physically active summer travel program. You can expect to go on hikes and explore cities and towns on foot. You do not need to be at peak fitness to participate, but it is important that you have a desire to be physically active, and that you are excited about trying all activities. 
Accommodations • We stay at small family-run inns and hotels, and leaders stay with students throughout the program.  
Climate • Summer temperatures in Italy can be very warm, with daytime highs in the 80s and 90s °F in the south, and 70s and 80s °F in the north. 
Meals • We begin each day with breakfast at our residence, and enjoy lunches and dinners at small, local restaurants and cafes, or picnic-style in parks and on waterfronts. 
Cuisine • Traditional Italian cuisine is characterized by its simplicity and varies greatly by region. Common meals include pastas, pizzas, rice dishes, stews, cheeses, fish, cured meats, soups, and salads. The country is also home to a thriving international community, and food from around the world is also available. 
Language • Italian is the official language of Italy, though each region often also has its own dialect. English is also spoken in larger cities. 
Sign up for two programs & save $500!
$300 tuition discount + no application fee