Go behind the scenes with one of our Program Leaders, Evan Overton, to read about his experiences leading and get an in-depth look at how art has shaped modern culture in Europe on our Smithsonian Student Travel program to Portugal & Spain.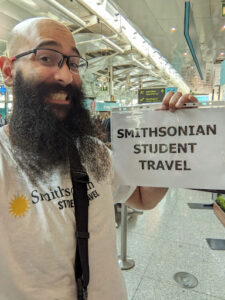 How do you define leadership?
In my experience, leadership is facing the many challenges this thing we call life presents to us with courage, compassion, and the wisdom to learn from your mistakes. I have found art to be a great way to reflect on history and the themes that have shaped our societal evolution, as well as a wonderful respite from, or illustration of, the complexities of modern life. Whether applying these reflections to an artistic practice, or using them to build skills of critical thinking, art can help us all to grow as individuals and as members of a community.
What is being a leader for Smithsonian Student Travel like?
I loved the study of Spanish language and Iberian culture as a young person, and eventually studied abroad and worked in Spain during and after my years at Boston University. As a leader for Smithsonian Student Travel, I am able to share my passion for language learning and my fascination with culture to guide students on educational adventures that often lead to substantial self-discovery. 
Evan's Photo Story
On our 2023 program in Portugal & Spain, we visited Lisbon, Cáceres, Madrid, and Barcelona, spending time in places chock-full of history and seeing some of the finest treasures of European art. Take a few minutes to virtually stroll through these streets with me and get a glimpse of what our program offers young, curious minds.
Lisboa, Portugal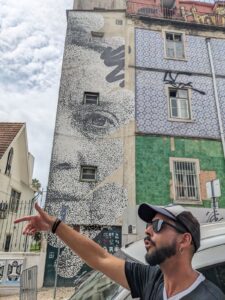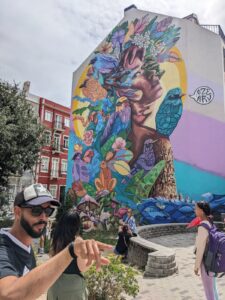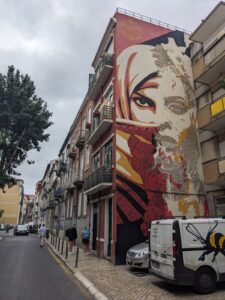 In Lisbon, we met with Igor of Street Buddha Tours to examine the place of art in public, and to reflect upon how art can be employed as a transformative tool for building community or solving social problems. He showed us some amazing works by artists like Vhils, OzeArv, and Shephard Fairey, and really got us thinking about what the 'creation' of art even means, and the potential we all have to be involved with art despite our individual abilities or lack thereof.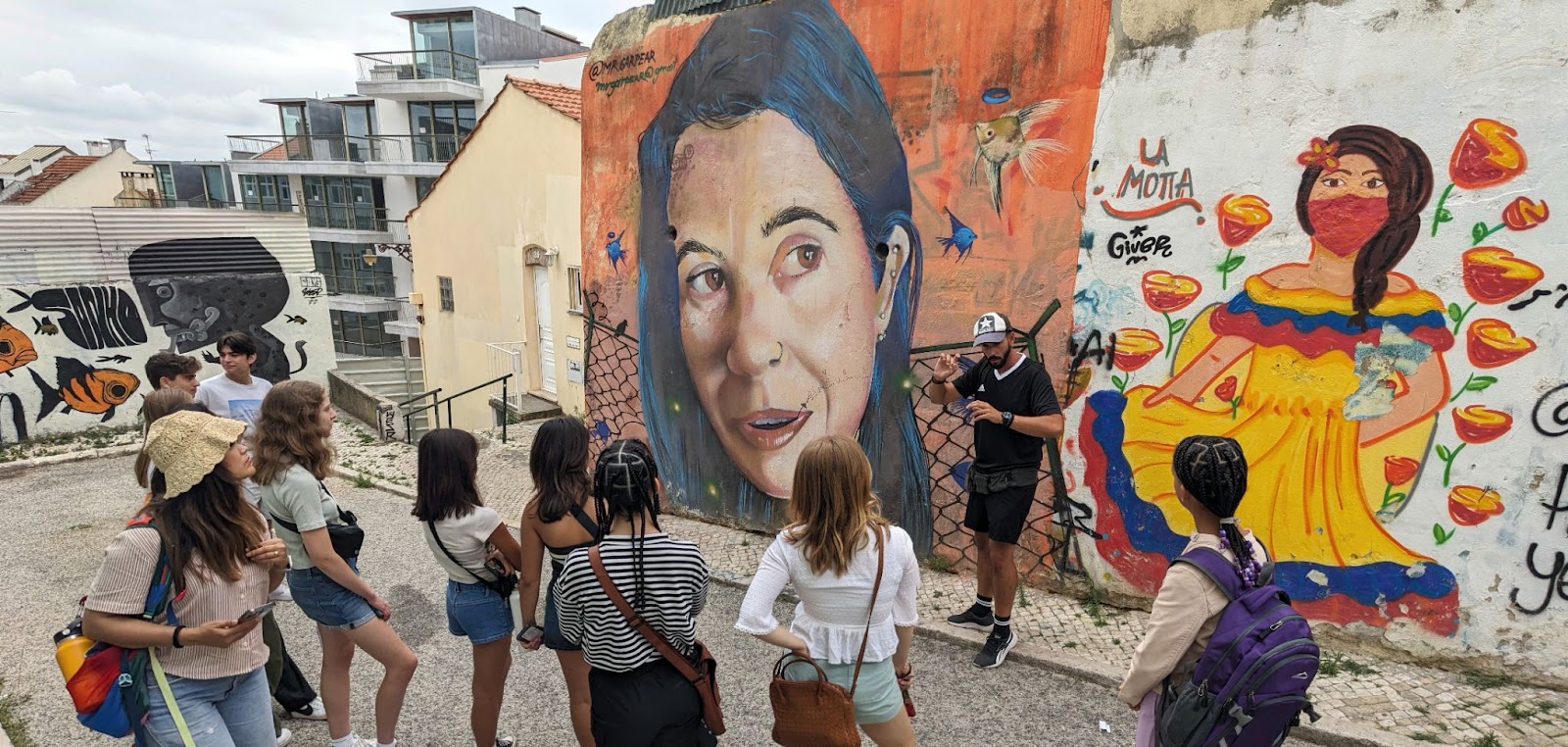 Back in the neighborhood we were staying, some of us took a run one morning through the Arco da Rua Augusta, an ornate triumphal arch from the 18th century built on the Praça do Comércio to commemorate the reconstruction of Lisbon after the earthquake in 1755 that destroyed much of the capital.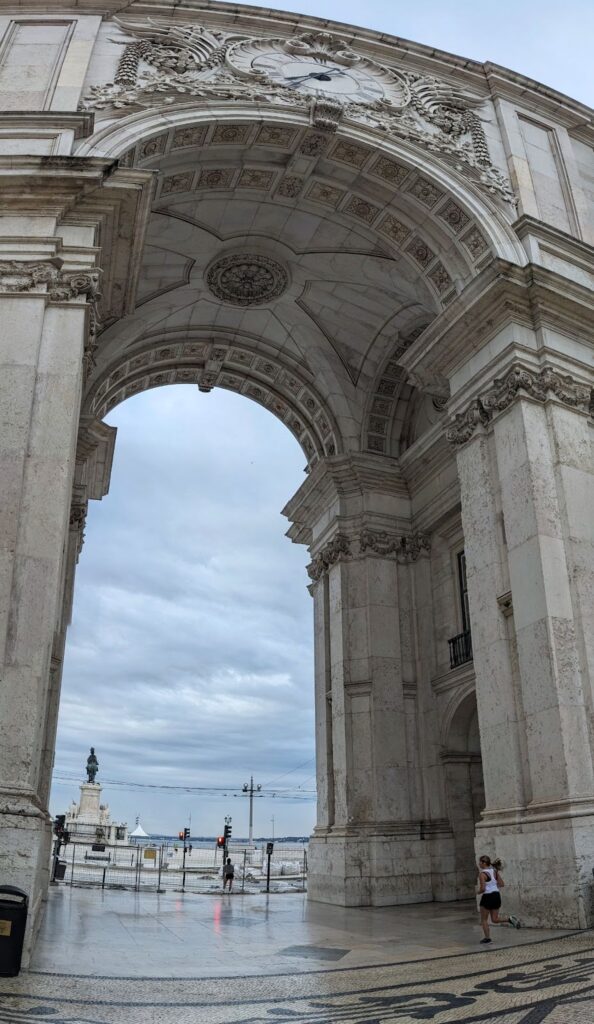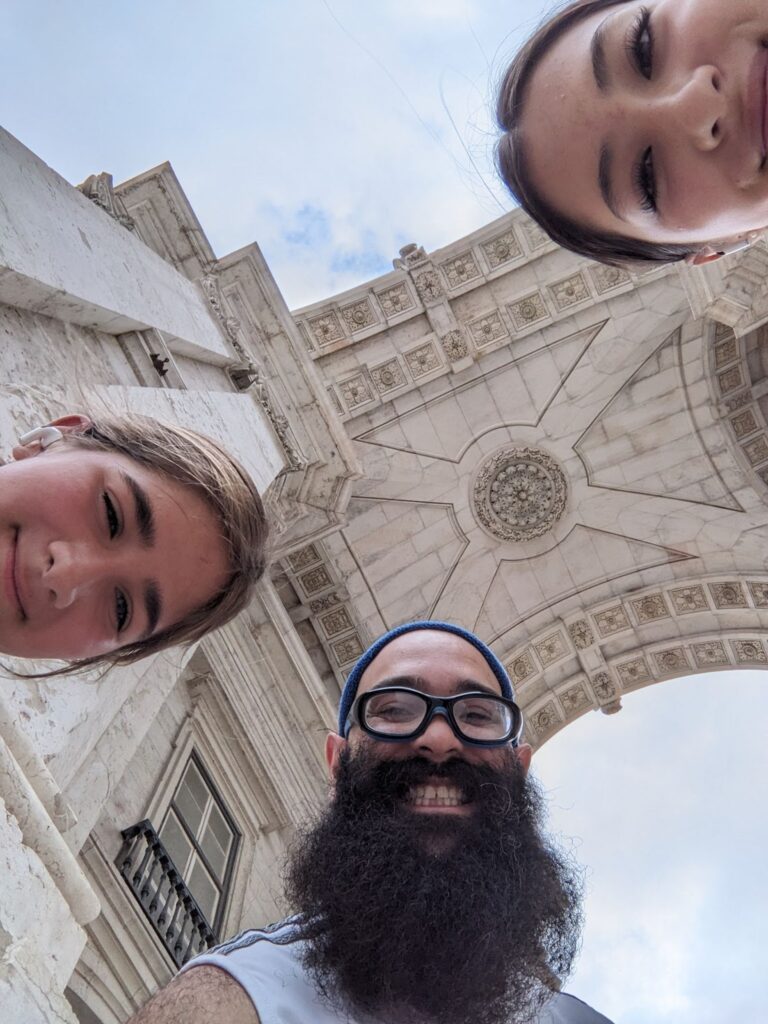 Sintra, Portugal
We had the great pleasure of visiting two UNESCO World Heritage sites while in Sintra, the Peña Palace and the Quinta da Regaleira. The views from the Peña Palace were exquisite!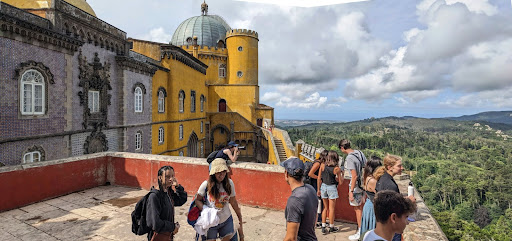 After the Peña Palace, we headed to the Quinta da Regaleira, which also features a palace as well as an 'Initiation Well' originally used by the Knights Templar!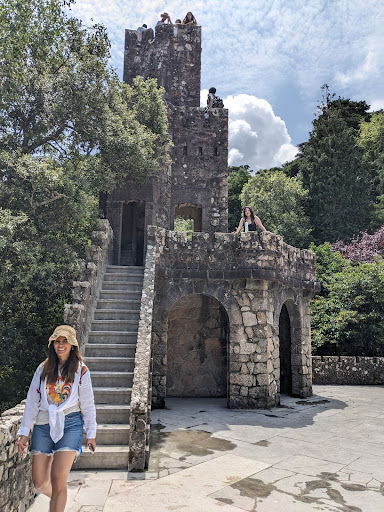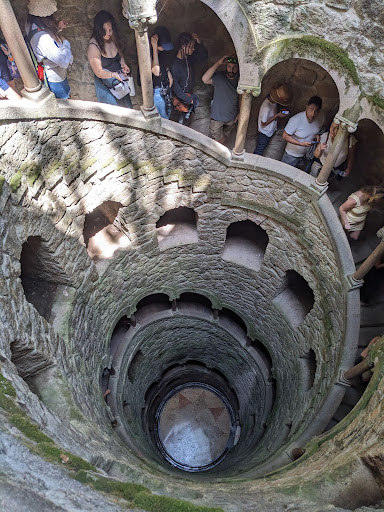 Our spirited local guide Duarte was just as excited to decipher hidden symbols left in architecture as he was to point out local entomological wonder: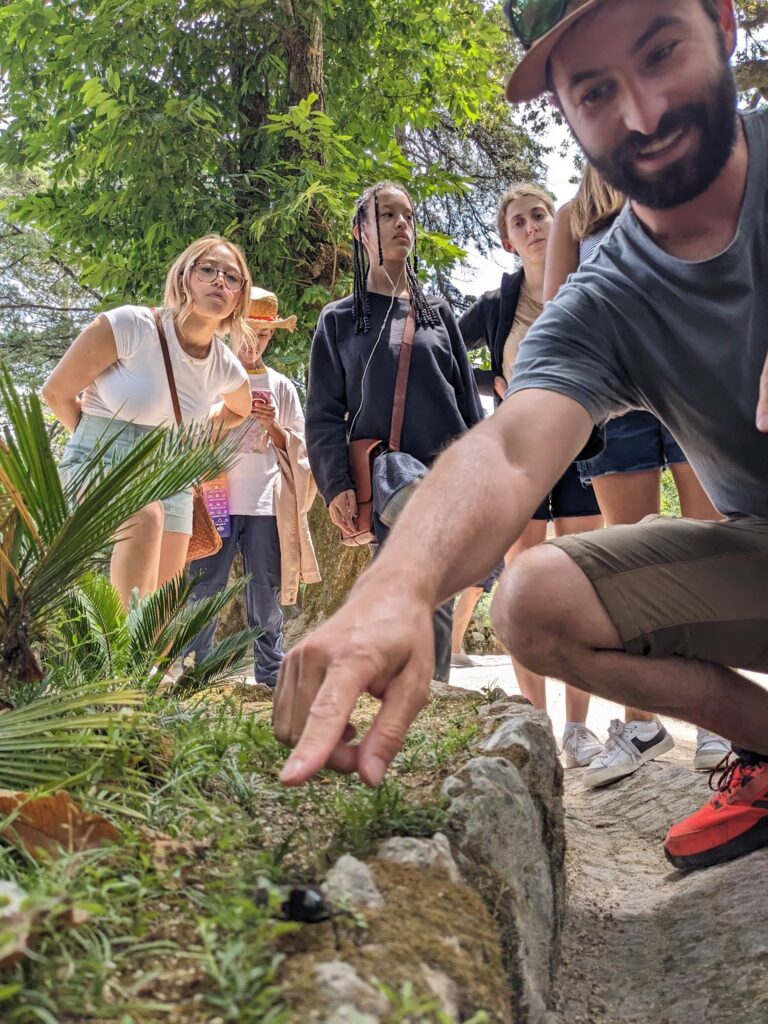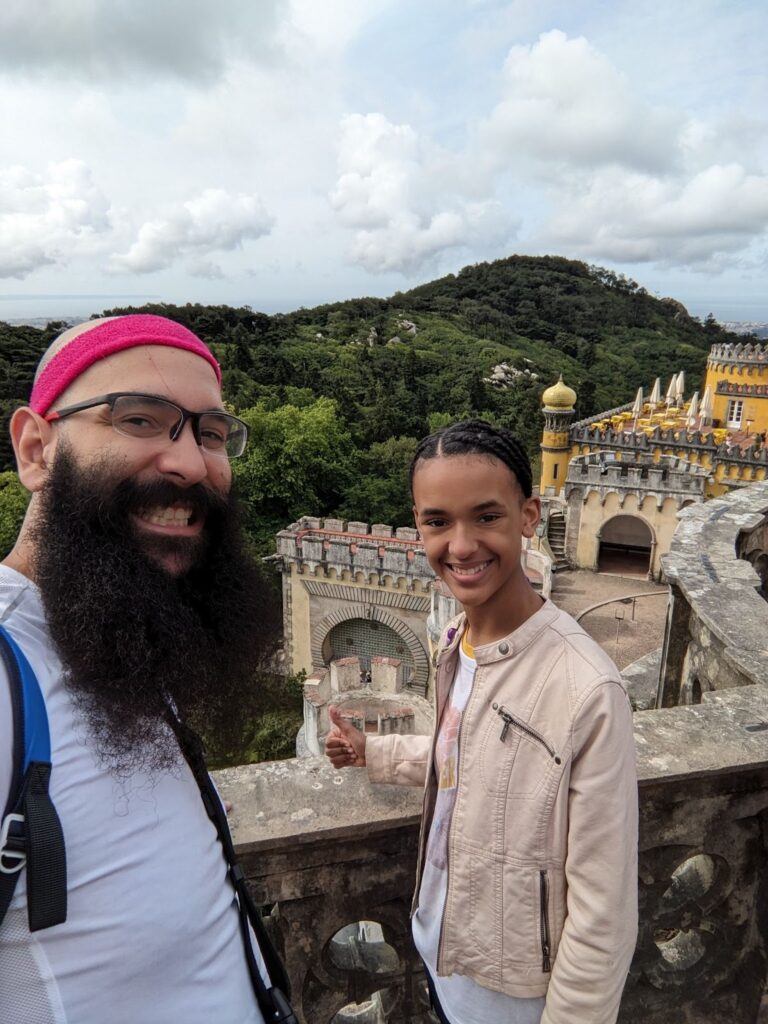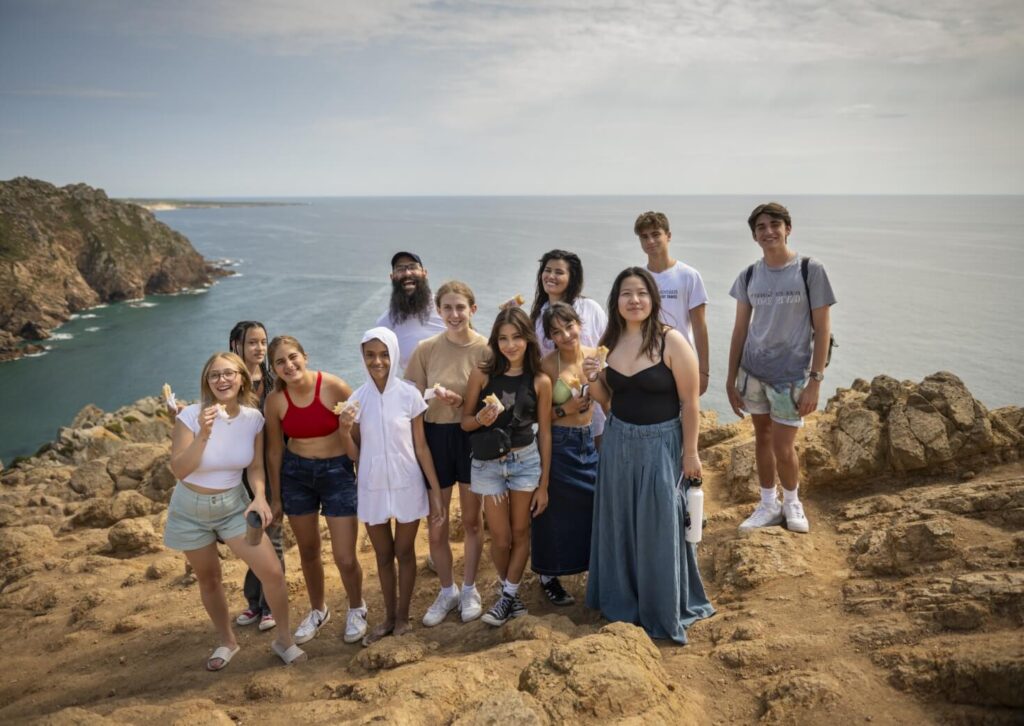 Evora, Portugal
On our way from Portugal to Spain, we stopped in Évora, one of Portugal's oldest cities and the site of an ancient Roman Temple: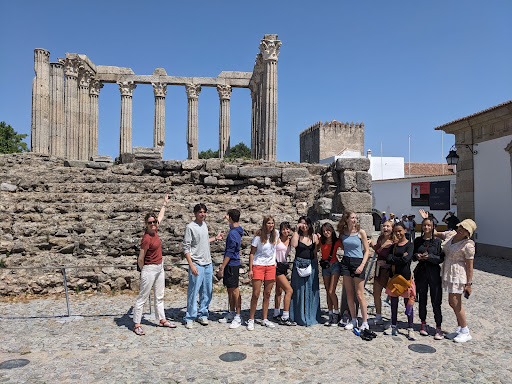 After a walk around the center of town and lunch, we discovered the Capela dos Ossos, a small chapel adjacent to the Igreja de São Francisco (Church of St. Francis), the latter of which was built in the 15th century in the Gothic-Manueline style. The chapel, constructed of exhumed bones, had us reflecting on life itself and what mark we might leave after death.

Cáceres, España
Accompanied by our Smithsonian Student Travel Expert, Katryn Evinson, we explored the vast collection of contemporary art at the Helga de Alvear Museum, including works by Francisco Goya, Pablo Picasso, Wassily Kandinsky, Ai Weiwei, and Thomas Hirschhorn.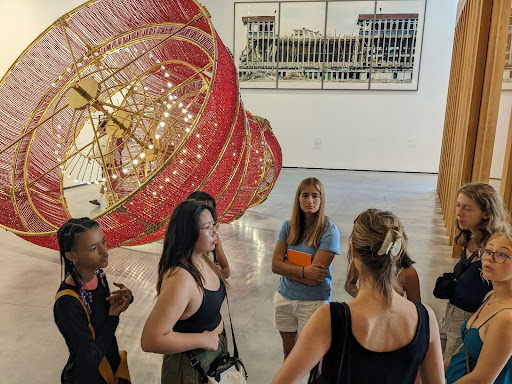 Students examining Ai Weiwei's 2007 work, Descending Light, as well as Los Caprichos by Goya.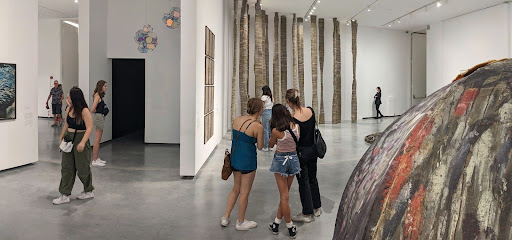 Students explore the exhibition featuring artist José Damasceno's Durante o Caminho vertical at the rear.
We wandered through a small forest made of stacked books and what appeared to me to be oblong rainbow colored marshmallows, and were fortunate to have an art historian there to provide us a lens for interpretation and collaborative meaning making.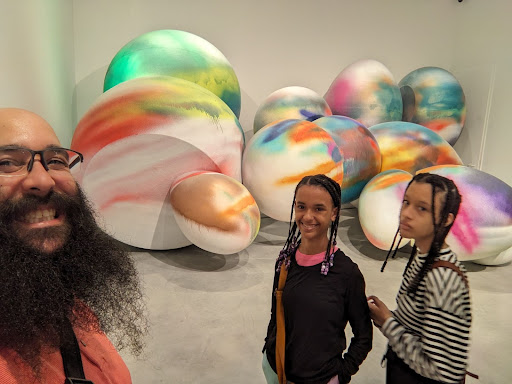 Evan and student participants pose in front of artist Katharina Grosse's Faux Rocks.
In Cáceres, architect Pablo Fernandez Sesma Castro led us to hidden treasures. In our guided walk around town, we remarked on many aspects of arquitectura cacereña (Cáceres style architecture), including the Toledo-Moctezuma palace, a classical mural housed in the town hall, and the 18th century Arco de la Estrella.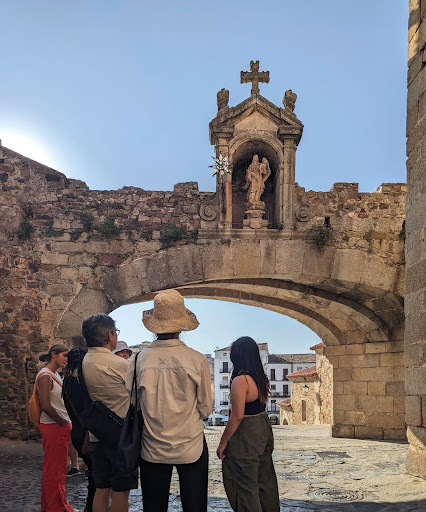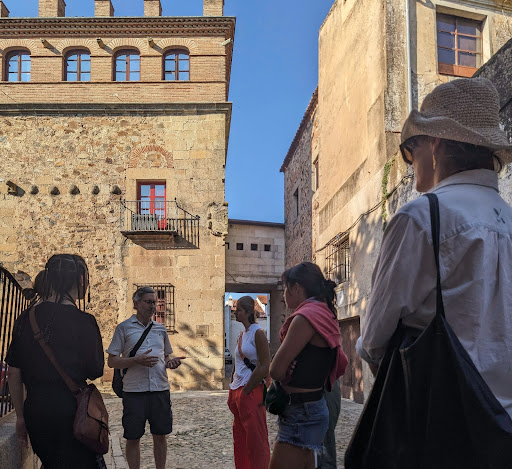 Whether indoors or outdoors, art seemed to be all around us!

Students considering what is public art, with a detailed analysis of La Rebelión de los Ciclistas (The Cyclists Rebellion) by Jorge Segui.
Madrid, España
In Madrid, Jaime Sanchez Cuervo delighted us with anecdotes about Dalí while exploring the Reina Sofia Museum, where we saw some wonders of fine art in the form of large scale outdoor works, smaller scale sculptures, and paintings on canvas.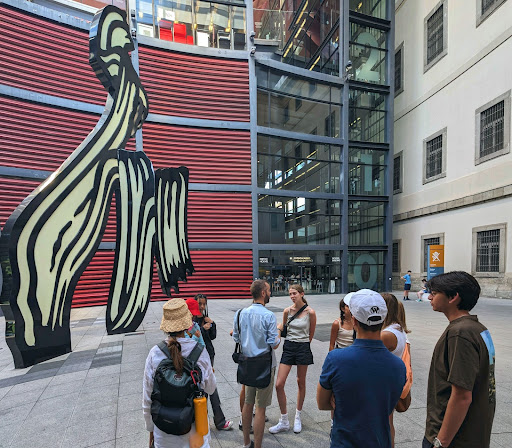 Students meet Jaime outside of the Reina Sofia Museum in front of Roy Lichtenstein's sculptural monument, Brushstroke (1996).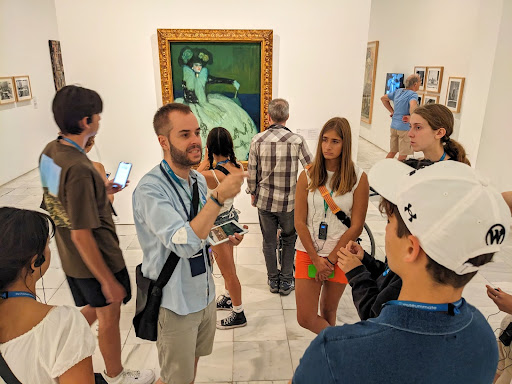 Students learn about Picasso's blue period and see the work Mujer en Azul (1901).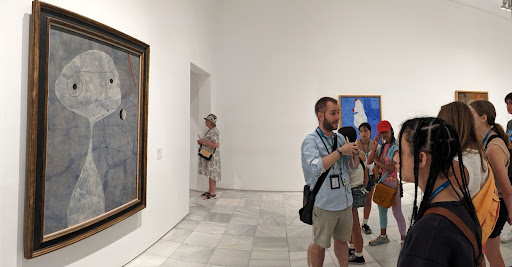 Students learn about Joan Miro's work Pintura (Hombre con pipa) (1925).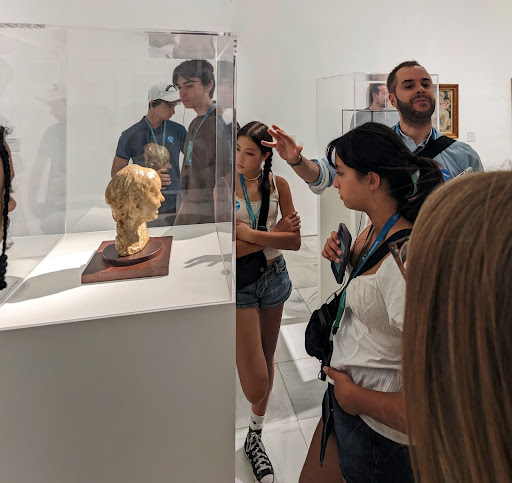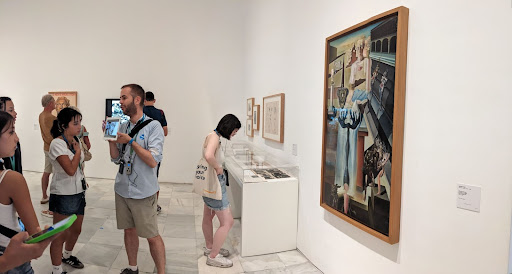 Students learn about Dalí's work L'homme Invisible (1932).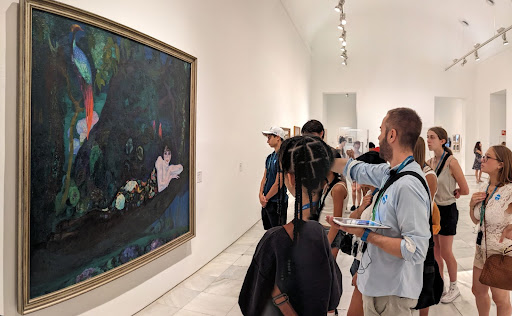 Students taking in the Modernist portrait of Sonia de Klamery by Barcelona-born painter Hermen Anglada Camarasa.
We also had the privilege of visiting the Prado Museum, and the Royal Palace where all our dreams of gilded moldings and fluted columns came true.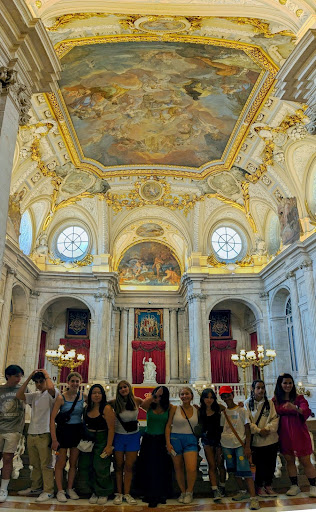 Students at the Palacio Royal.
Barcelona, España
Finishing up our program in Barcelona, we marveled at the Modernist works of Antoni Gaudí, and were especially awestruck by the Basílica de la Sagrada Familia.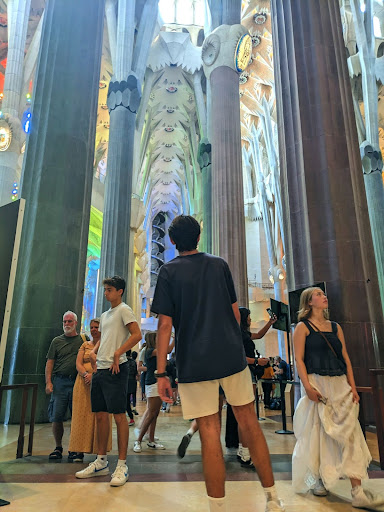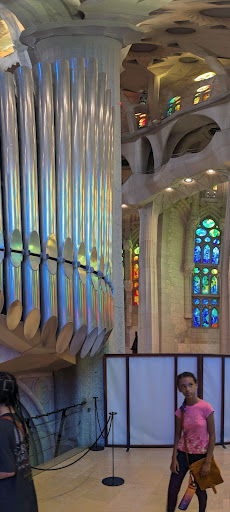 Students visiting the Sagrada Familia.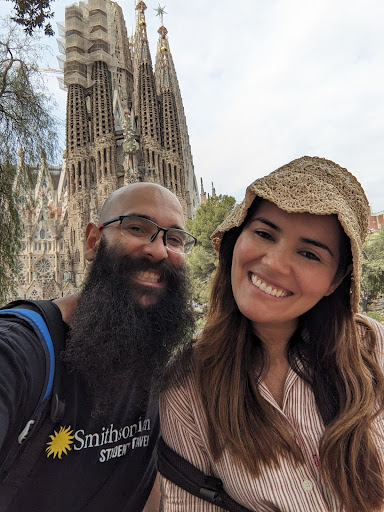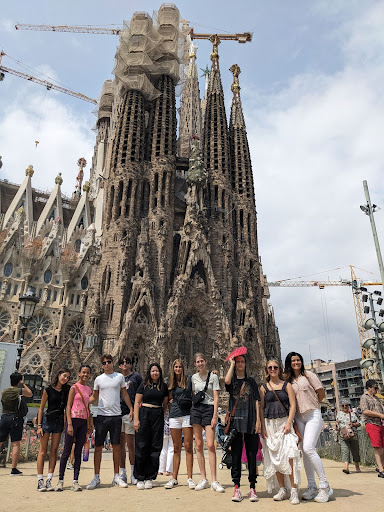 Sagrada Familia from exterior.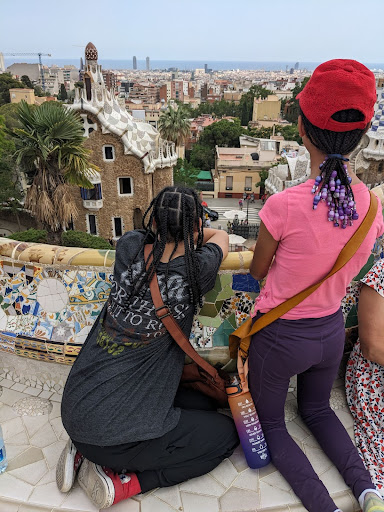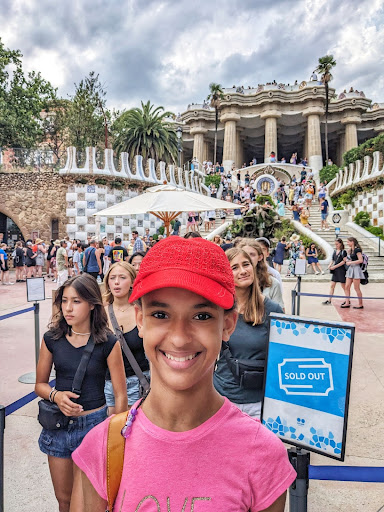 Descending the Dragon Stairway and looking out over the city from Park Güell.
By the end of the program, we had taken in our fill of fine art spanning many styles, centuries, and geographical distances, but we were able to find many connections between the places we visited, allowing us to reflect on the through lines connecting us to things in the distant past.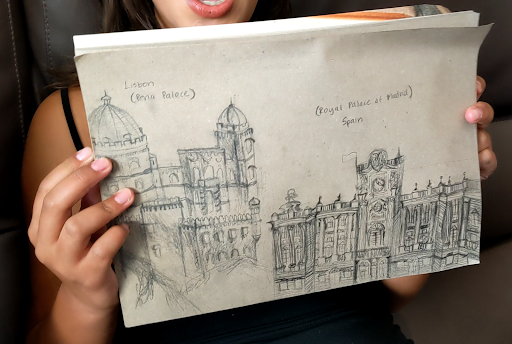 A student presents a sketch contrasting Peña Palace (Sintra) and the Royal Palace (Madrid).
Click here to learn more about our art and architecture program in Portugal & Spain.